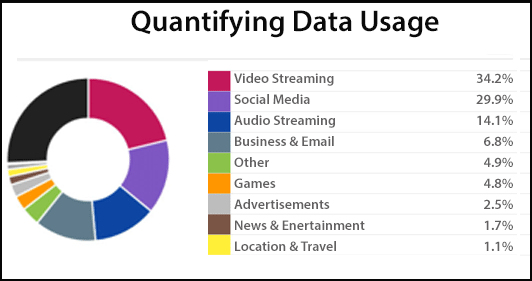 If you think your employees are just using their business smartphones to communicate with corporate applications, think again. It is estimated that more than 50% of the actual data usage is spent on social media sites, news and entertainment, as well as streaming audio and video applications. It's why we think if you could actually see the sites used by employee devices, you may change your views regarding company mobile device usage policies. The carriers don't provide this information, but MobilSense can.
Mobile technology is an indisputably powerful and essential business tool. High bandwidth data-capable smartphones bring access to an exploding range of employee productivity applications. With the growth of mobility comes a corresponding increase in data consumption. Data usage once measured in MBs is now averaging multiple GBs per mobile device and that means an ever-increasing carrier invoice.
Broken out by category and quantity used, a snapshot of your employee data usage can be used as a training tool to help your company harness the exploding cost of data consumption.
If you're looking for ways to reduce your company's expense, we have a tool to help guide your employees to be more mindful around off-hours data usage. Click here to learn more.