Do you BYOD?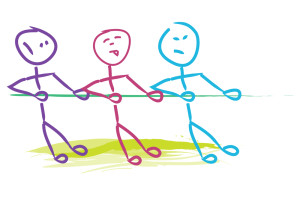 As you know, I'm new to the Enterprise Mobility Management space and while it didn't take long to realize the tremendous benefits of wireless expense management, I'm as equally perplexed by the whole bring your own device initiative aka BYOD.
In this day and age, it's blatantly obvious why an employee would need a wireless device for work: one, wireless devices have proven to increase productivity; two, you can be anywhere, anytime and still connected to work increasing productivity; three, see one and two. Wireless access just works; not only for the employee but is clearly advantageous for the employer. Where it starts to get sticky for me is the perception that offloading the responsibility of the device to the employee saves money. From what I've seen so far, the savings is typically nil to none and the employer ends up forfeiting important areas of control that can prove disastrous in a crisis….like when there's a phone accident e.g. lost, stolen or damaged. If the asset is owned by the company and the phone is lost, stolen or damaged, the company can easily and quickly assign a replacement from 'the reserves' immediately. If the asset is owned by the employee, the employee is then faced with the time consuming, expensive challenge of getting a new phone on his or her dime. Too, while BYOD allows a 'freedom of choice' to the employee for the device and the carrier, the employee ends up being his or her own help desk which, for such a mission critical business tool, often puts a BYOD device holder in a big hole.
To add gray to an already dark gray issue, I read an article on Yahoo about a woman who was allegedly fired because she deleted an app from her personal cell phone which was loaded by her boss and used to track her every move. Click here to read the titillating details. If you're being asked to use your personal device for work and your boss loads an app that invades your privacy during your personal time, I certainly don't think you should be terminated. Is that even legal? It may or may not be, however, when I'm on my personal time, tracking my every move just feels not only invasive but creepy. Besides, I'm not sure how I feel about people from work, or who are affiliated with work calling me on my personal cell phone number on my personal time. What if I'm asked or even mandated to use my personal device for work? While using my own device has its advantages, like I'm used to it; it's mine; it's my personal device and it's my personal phone number. Meh.
Obviously, BYOD programs cannot be a stagnant one-size-fits-all initiative, but done mindfully, and with the help of a wireless expense management tool, BYOD could work well for all parties involved. The biggest advantage I see to company participation not only involves invoice optimization but policy control and asset management which ultimately saves money in the long run. Invoice optimization only works when users are pooled together and tracked via a wireless expense management tool like MobilSentry™ which uses algorithms against the most current carrier offerings systematically reviewing all pool, rate plans and feature of every device to ensure the lowest possible rate for all users. Independently, a BYOD user, who is all alone in the wireless world, is subject to pay a premium for service then twist in the wind when there's a device crisis. Companies who load safely guarded company information on BYOD devices obviously use a MDM solution to apply security measures and push updates, so why not use an equally beneficial tool like MobilSentry™ which does the aforementioned with the added benefit of charging back a portion of the cost to the employee? The company isn't left to incur all the expense and neither is the employee allowing both to benefit from not only smart products but context-aware apps that empowers employees, customers and partners. A win-win!
Do you BYOD? I would love to hear about your experience and/or thoughts on the subject. Please comment below or join in the conversation on Twitter @MobilsenseT