MDM Integration
Mobile Device Management (MDM) incorporates Device Discovery & Enrollment, Content & Application Security, and Device Locking & Wiping. Representing a fast growing sector of Enterprise Mobility Management (EMM), MDM provides software based control of the handset asset, the data it contains and helps mitigate the risk of data being improperly accessed when a device is compromised, lost or stolen. Another key sector in EMM, is Mobile Expense Management (MEM). While MEM emphasizes cost management activities centered on carrier invoices, MDM focuses on the handset itself, securing data, implementing corporate use policies and providing remote asset management capabilities. In addition to Invoice Optimization, Contract Validation and Cost Allocation, MEM also includes Visibility Reporting, Provisioning and Help Desk assistance for end users. The two disciplines of MEM and MDM work effectively together when their overlapped functions are synchronized.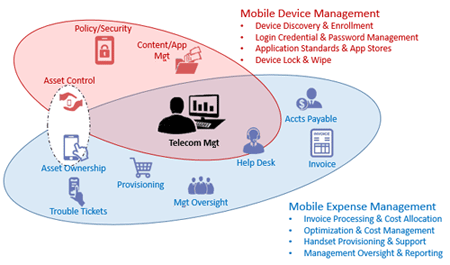 While MDM and MEM generally focus on solving different mobility management problems, there is also an opportunity for collaboration of overlapping tasks. In particular, both maintain ownership data regarding who has been assigned the device, and can share key information between these two respective data sources. By combining up-to-date employee attribute information retained and managed within MobilSentry™ and the asset control capabilities of MDM solutions, asset ownership information can be greatly improved within each environment. For example, combining Move Add Change Delete (MACD) information with MDM stored asset information can further enhance an organization's ability to reliably maintain a synchronized and accurate company asset repository.
With the assistance of the MobilSense Help Desk services, device activation can address employees' MDM enrollment and email synchronization issues providing them with a one-stop location for all their wireless handset deployment, upgrade and maintenance issues. The MobilSense Help Desk can also assist new users in initiating the MDM profile which can then upload the apps permitted for that profile. Working with well-established MDM vendors, MobilSense is ready to support any needed collaboration and synchronization with your chosen MDM solution, creating the best of both worlds for your Enterprise Mobility Management efforts.