Reporting & Analytics
The sophisticated analytics of MobilSentry™ transforms raw billing data into business intelligence enabling better business decisions. With the rapid growth of mobile devices, telecom administrators are faced with dynamic and increasingly unmanageable challenges. Now more than ever, the ability to turn complex carrier invoices into insightful and actionable reporting is needed.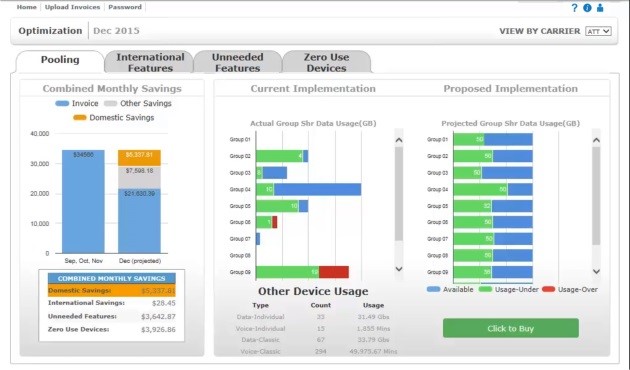 By integrating Human Resource information monthly with carrier invoice data, MobilSentry™ provides intuitive and powerful online business reporting capabilities to key administrators and management through secure partitioned login access. Providing distributed organizational reporting to all levels of management is dramatically simplified when delivered through a centralized, browser-based reporting system. Through intuitive navigational methods, we are able to display a variety of views to a range of user roles including:
Management Dashboards Bring Together Multiple Graphics Displays for Quick Decision-Making
Single-Click, Drill-Down Detail from Most Reports Enables Views fo Cost and Usage Trending at the Individual Device Level
Customer Definable Threshold Alerts Makes Line Management Aware of Policy Violations
Because carrier invoices include the only cryptic plan and feature codes and lack important contract eligibility and termination dates, our process augments invoices with important metadata to provide the context in reporting and to drive our sophisticated rate optimization algorithms. Involving line management is an important element in accomplishing effective mobile cost containment. Visibility, automation, and workflow functionality come together in MobilSentry™ to deliver the industry's best decision support capability.
Partitioned Views Based on Segmented Management Roles: Powerful data can lie dormant when the user interface is inadequate at revealing information. Our intuitive display of graphical and tabular data puts decision-making information securely at the fingertips of busy managers and administrators.
Inventory Management: By combining asset, contract information, and dates along with HR information, MobilSentry™ becomes a potent, intelligent repository empowering telecom administrators to maximize the reuse of service lines under contract or identify handsets available for redeployment.
Online Workflow and Approval for Zero Use Termination Actions: Key service attributes like asset type and description, along with contract termination and upgrade eligibility dates provide the needed background to decision-makers when it comes to tracking and flagging for management approval, zero-use device candidates ready for suspension or termination.
Our powerful reporting and analytics save time and energy by delivering the right information in a timely and intuitive manner. When this national home builder was faced with the housing crisis, they were hit especially hard.  However, with MobilSentry™ they were able to easily identify unused inventory and minimize their wireless cost exposure by reducing lines quickly.