Premier Service
Our initial product launch dates back to 2002 making MobilSense Technologies, Inc. one of the earliest solutions in the wireless management space.
With an engineering effort focused solely on wireless expense and asset management, the MobilSentry™ scalable platform has been extended to match the rapid mobility evolution, affording our clients the comfort of knowing the solution that they rely upon today will continue to meet their future needs.
FROM BEST PRACTICE TO PRACTICAL SOLUTIONS – our long history has allowed us to accumulate a range of best practice implementations over a variety of customer experiences. Through these deployments we have also gained practical insights to bring increased control and efficiency to companies of all types and philosophies.
EMPOWERING CLIENTS – our hybrid services model focuses on getting the most out of in-house resources while augmenting with added expertise where needed.
■ Synergistically work to share deep wireless knowledge and expertise with existing client teams
■ Enable support staffs to take full advantage of the reporting and analytics of MobilSentry™
■ Supplement in-house resources with skilled experts as needed
BREADTH OF SERVICE OFFERING – whether we are extending staff's bandwidth in offloading order fulfillment tasks or outsourcing your company's Help Desk, we maintain the highest standards in customer service, substantiated through our detailed Service Level Agreement (SLA) reporting. During the implementation process we will determine the best fit of our automated solutions based on your priorities:
Advisory services included at no extra charge
Continual process improvement suggestions
Customized reporting
Contract benchmarking
Request a Demo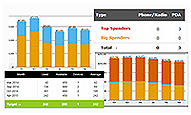 Contact us to see the powerful analytics capability in MobilSentry