Analytics
Analytics comprise the computational capabilities utilizing mathematics and statistics to gain valuable knowledge from data. Without the ability to methodically mine the data and metrics associated with today's wireless invoices it becomes difficult to exert control over the rapidly expanding and increasingly volatile world of mobility. In the absence of analytics and automation it is a challenge to effectively manage hundreds of devices and virtually impossible to be proficient overseeing thousands of billing devices. Some of our analytics are embedded in our automation, such as optimization algorithms and pool usage forecasting while others are accessed through our powerful dashboard alerts and detailed reporting capabilities.
Our foundational offering, MobilSentry™ provides busy telecom management staff and business unit managers with the following key benefits:
Business Intelligence – raw invoice data is transformed into decision-making intelligence via intuitive, interactive and simple-to-understand user interfaces.
Optimization Algorithms – statistical analysis coupled with predictive analytics generate reliable forecasts to stay ahead of fluctuating usage patterns to ensure the appropriate investment in optimum rate and feature plans.
Policy Monitoring – through analytics we help companies identify usage anomalies which bring savings beyond traditional rate optimization. Our powerful dashboards provide views of a variety of data, permitting central administrators to observe patterns and quickly prescribe remedies.
Proactive Alerting – our rules engine assists management in tracking company defined wireless standards by providing alerts when policy thresholds are exceeded. Cutting edge dashboards provide information at your fingertips, to resolve issues relating to billing and individual usage abuse including international travel and monthly downloads.
Data Drill Down – actionable and managed reporting is available at any time. With easy access to detail records from desktop, laptop or tablets, troubleshooting specific usage and cost issues can be easily resolved with a few simple clicks.
Request a Demo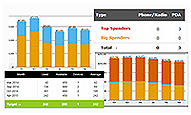 Contact us to see the powerful analytics capability in MobilSentry