Automation
Automation is the heart of any effective wireless management solution, without which you can expect to generate needless cost overhead from manual processing steps whether using in-house support staff or third-party consultants. A fully automated solution like MobilSentry™ delivers the following benefits:
Improved Accuracy – merging invoice data with the most up-to-date, company hierarchy, accounting and asset information produces greater precision for inventory reporting and cost allocation processes. With data sourced directly from authoritative HR information it eliminates the propogation of errors resulting from procedures reliant on manual keystroke entry.
Predictability – by streamlining the process of integrating company accounting data with each monthly bill, correct and timely cost allocation processes can be completed more efficiently by removing manual processing time lags. Calendar-triggered software events insure the ability to meet AP/GL deadlines and eliminate carrier late fees, thus saving time and providing peace of mind.
Increased Throughput – automation relieves in-house staff of tedious task that can be particularly arduous under monthly accounting deadlines. Harnessing computational power and a relational database for expense management tasks can free up staff cycles which can then be redirected to higher value functions.
Enhanced Control – a carrier-agnostic portal with integrated approval workflow delivers the most proficient provisioning capability by maintaining a controlled environment that keeps end user orders confined within defined company policies.
Consistent Savings – critical data comparisons and calculations for a variety of otherwise complex tasks, such as rate and feature optimization automatically yield monthly cost savings versus optimization exercises performed quarterly, semi-annually or annually. By linking monthly business algorithms with current contractual information each carrier invoice is scrubbed and audited to eliminate costly overpayment mistakes.
Request a Demo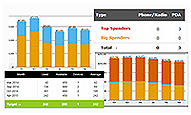 Contact us to see the powerful analytics capability in MobilSentry