Trending + Powerful Analytics
The advanced analytics of MobilSentry™ transforms raw billing data into business intelligence, supporting more effective and timely business decisions. With the rapid growth of mobile devices, telecom administrators face dynamic and increasing manageability challenges. Now, the ability to turn complex carrier invoices into insightful and actionable reporting is more needed than ever.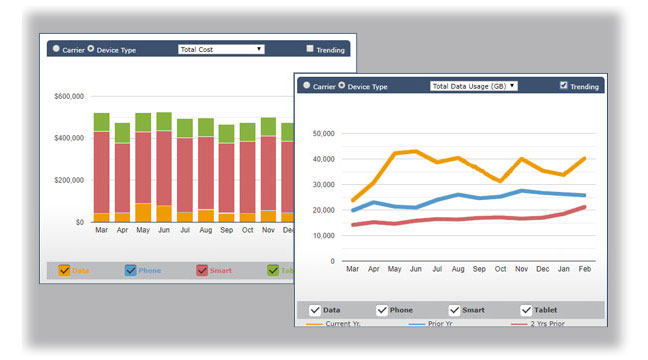 By merging Human Resource information monthly with carrier invoice data, MobilSentry™ provides an intuitive and powerful online business reporting function to key administrators and management via secure login access. Providing distributed organizational reporting to all levels of management is dramatically simplified when delivered through a centralized, browser-based reporting system or distributed via email. Web access empowers intuitive navigational methods to display a variety of views to a range of user roles including:
Graphical management dashboards that reveal important cost and usage trends
Single-Click, drill-down detail enables views of individual device cost and usage history
Customer definable threshold alerts make direct management aware of policy violations
Because carrier invoices include only cryptic plan and feature codes and lack important contract eligibility and termination dates, our process augments invoices with important metadata to provide the context in reporting and to give administrators and company management more effective information. Involving direct management is an important element in accomplishing effective mobile cost containment. Visibility, automation, and workflow functionality come together in MobilSentry™ to deliver the industry's best decision support capability.