WHY WE ARE DIFFERENT
When it comes to understanding individual device data usage patterns and enforcing mobile usage policy, there is only one mobile cost management vendor that offers a Mobile Data Management (MoDM) solution integrated with an expense management platform – MobilSense. Simply put, other MoDM platforms monitor data usage and provide control mechanisms, but they cannot harmonize the financial implications of data usage with carrier invoices like our solution, MobilSentry™. MobilSense can quantify in specific financial terms the return on investment of a MoDM investment invoice by invoice.
Through the power of our integrated (MMS) and mobile data management (MoDM) platform, MobilSense introduces monumental data control capabilities from within the carrier network without compromising a robust handset experience, which is more important than ever since employees are now working from home. Our combined offering of MoDM and MMS helps enterprises avoid the inevitable mobile spend budget increases as network data speeds increase and it protects companies from paying for their employee's entertainment usage.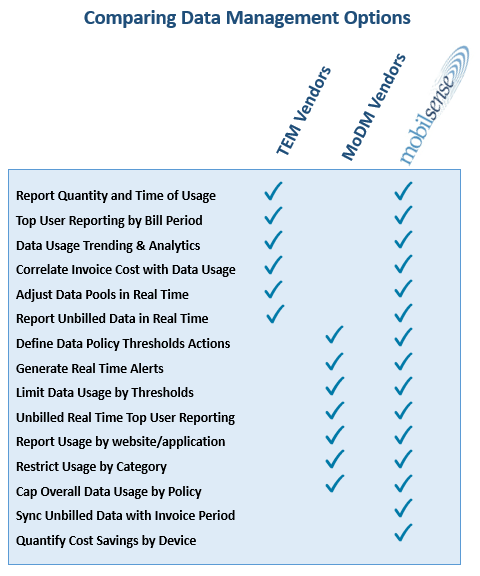 With MobilSense's MMS platform, there is a flexible and granular methodology ranging from intelligent mid-cycle notifications to limiting access to specific sites and/or providing caps on overall usage levels.
Are you interested in gaining insights to your company's mobile device usage? Request a demonstration of our award-winning MMS software.