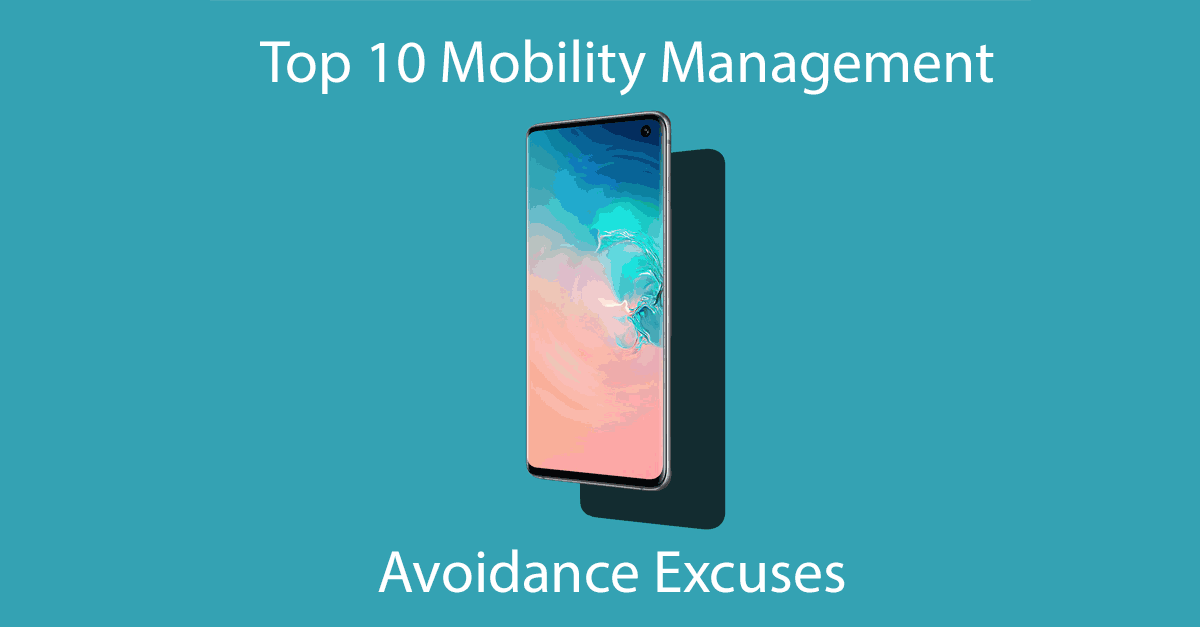 10. WE ONLY USE UNLIMITED PLANS
* While there are no data usage overages, companies consistently pay a higher rate for every phone.
9. OUR BILLS AREN'T GROWING
* Invoices that stay level are the poorest way to control cost.
* What if your company is paying 25 percent too much every month? Wouldn't you want to know?
8. NO BUDGET FOR MANAGED MOBILITY SOLUTIONS
* MobilSentry™ is budget neutral
* Can you afford to be over budget on your carrier costs?
* If you don't know what is optimal, how do you know you aren't already over budget?
7. WE HAVE OUR OWN IN-HOUSE SOLUTION
* An internal coded solution becomes obsolete quickly due to rapid changes in carrier rate plans.
* An in-house solution is only as good as the designer's knowledge of the subject matter.
* Any software with only one customer is bound to be dated from completion.
6. IN-HOUSE STAFF OPTIMIZES OUR CARRIER INVOICES
* Eyeballs on invoices do not an optimal solution make.
* The outcome would only be as effective as the experience level of your employee.
5. WE HAVE A TEM (WIRELINE) SOLUTION
* TEM solutions include a best-in-class mobile-focused software component. Most do the financial function (pay bills and allocate costs).
* TEM solutions rarely have a flexible ordering portal for mobile devices.
4. WE ARE GOING BYOD
* Industry analysts have said BYOD is always higher in cost than centrally managed devices.
* MobilSentry™ offers a hybrid (central BYOD) that provides companies the best of both worlds.
* Recent research shows companies are pulling back from BYOD.
3. THE CARRIER PROVIDES QUARTERLY REVIEWS
* This is the biggest cop-out in the industry. The fox is guarding the henhouse. The carriers never have their best cost interest in mind.
* In almost every case, when we compare our savings analysis against carrier invoices, we're able to produce upwards of 25 percent in savings.
2. WE CARRY A HEALTHY BUFFER IN OUR DATA POOLS
* Pooling often means getting a big enough buffer that you will never go over. Overages in the current era are not as painful as the early days, big buffers mean overpaying.
* Pooling is not an insurance policy for paying the carriers too much.
* Pooling is only optimal if it is aggressively and consistently managed.
* Data Pools and Voice Pools behave differently; many companies are moving to data pools and treating them like voice pools. They are leaving a lot of money on the carrier's table.
1. WE ARE EFFECTIVE NEGOTIATORS ON CARRIER CONTRACTS
* Carrier contracts can save money if effectively negotiated. They do not produce larger savings like monthly optimization.
* Pooling is not an insurance policy for paying the carriers too much.
* Carrier contracts cannot take into account monthly usage variations or new, more cost-effective rate plans introduced by the carriers. It is apples and oranges.
* Contracts generally produce a time value of money benefit and a monthly discount, both of which are required. They do not provide monthly cost avoidance based on usage.