PRIVACY AND SECURITY – OUR COMMITMENT TO YOU AND YOUR BUSINESS DATA
MobilSentry™ was designed and built with privacy and security at its foundation. To keep data private and secure, we physically isolate each customer's data from other customers. Each user's access to customer data is controlled by administrative roles and privileges to segment views of devices, data elements and levels of functionality to only those with appropriate authorization. Usernames and password conventions can be configured to enforce company-specific length and complexity requirements.

Transaction Security
Our sites use Secure Layer (SSL) to ensure secure transmission of confidential data. Any data transmitted during a session will be encrypted or scrambled and then decrypted or unscrambled at the receiving end ensuring data cannot be read during transmission.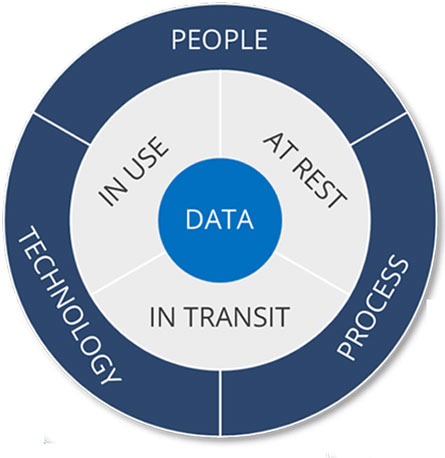 Storage Security
All MobilSense equipment is in a secure data center in the United States. Access to the data center is controlled via a biometric identification system that restricts access to unauthorized personnel. The data center is equipped with full redundancy and 24X7 monitoring and response.

Access Security
Access to any MobilSense application is only allowed via a unique user login and password. All interaction between the application server and the user of the system is brokered by an Apache web server running as a proxy for the user. Direct access to the application or database servers is not allowed.
FLEXIBILITY TO MATCH YOUR COMPANIES PRIVACY REQUIREMENTS
MobilSentry™ Data Manager not only can collect data usage duration and quantity information as it occurs but also can identify websites visited or applications used. Because we recognize a company's organizational sensitivities around individuals with access to other team member's website usage activities, our system segments information into three levels of detail:
quantity and time of a transaction
category of data activity (video streaming, social media, business email, etc.)
actual websites visited (Facebook, Netflix, YouTube, ESPN, Amazon etc.)
Our flexible privacy settings can limit access to individual views across the company or only to selected set of authorized users.
WHAT MOBILSENSE DOES NOT SEE
While MobilSentry™ Data Manager does have the ability to view websites and applications visited, it does not have the ability to see the following:
keystrokes
contents of text messages
contents of email messages