Comprehensive Solution
In the absence of data visibility down to the site level, it is nearly impossible to segregate and measure legitimate business versus personal mobile usage. Armed with the analytics of how employees are consuming their monthly data usage, companies can more effectively communicate and enforce prudent mobile usage policies. To root out unwanted data usage, a key component involves the ability to inform employees of policy limits by delivering appropriate alerts in real-time when limits are about to be met or exceeded. The need to control unwanted data usage forms the basis of our four pillars to a complete mobile data usage management solution.

Unique Data Insights
Our reporting and analytics address three critical elements of data insight, 1) visibility down to the actual sites visited by individual mobile devices, 2) analytics to view usage data by amount and time in the context of bill cycles and 3) the ability to view unbilled data usage in real-time. This unparalleled depth and breadth of data visibility in real-time allows administrators to know monthly cross-company usage-to-date by a variety of business and non-business categories, including entertainment and streaming video and audio at any point in time.
The Ultimate View – Actual Sites Visited: MobilSense is the only MMS platform with the ability to capture data on the carrier network, including the destination sites visited, the quantity of data consumed, and time of day of the visit. Powerful graphics make the information available showing usage amounts and percentages by category as shown below.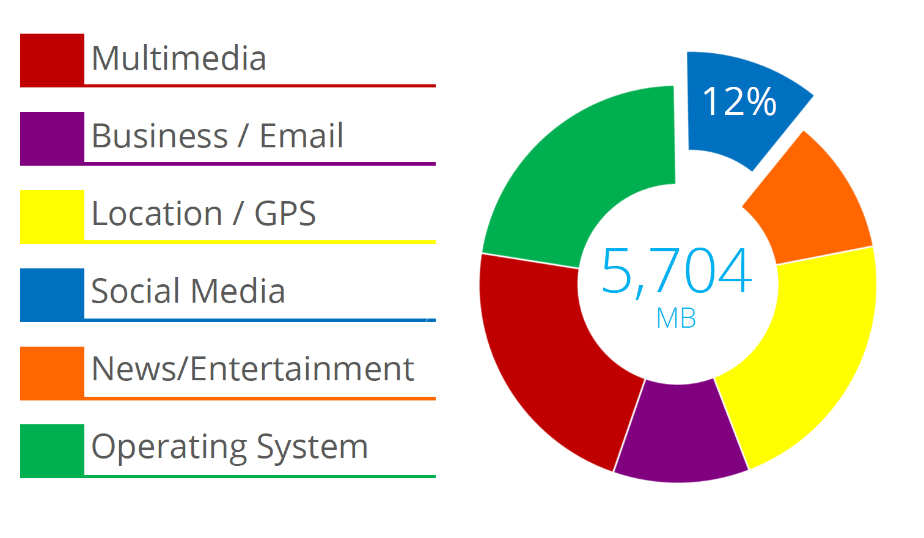 Only reporting total data usage at the company or individual level has proven to be ineffective in encouraging responsible employee usage. Better decisions and enforcement come from looking into user behaviors beyond the superficial level. A view of your most costly users, including a breakout of their spending by category, can yield opportunities for employee education or even reimbursement by employees for unapproved usage. A view of your user's off-hour usage is the first of many steps that can be taken to bring increased accountability to wireless users. MobilSense has the tools you need to help combat unwanted non-business data usage.
Real-Time Alerts
Understanding the actual sites visited, including when and how much data was consumed is necessary but insufficient when it comes to controlling data usage. It is critical for users to also become part of the solution by participating in more judicious data usage. Participation organically happens when employees understand management is able to view usage information through periodic alerts. Through the power of MobilSentry™, usage policy thresholds and limitations are established to coincide with desired user behavior, and once established, events or triggers can be defined to send a text or email alerts to an individual device and management in real-time. The alerts are essential in motivating employees to be part of your company's cost-saving mentality. In the absence of real-time alerts, companies deal with a multitude of data management challenges. Click here to learn more about what those challenges are.
Unprecedented Controls
Beyond delivering notifications and alerts to employees, MobilSentry™ presents a range of options that enforce company usage policies. Triggered by the same policy engine used to generate real-time alerts, limitations can also be applied to certain categories of usage, or overall caps can be instituted that will force an employee's usage to WiFi once they have reached a predefined threshold. All of this works via powerful policy engines, when initiated, works automatically without ongoing admin intervention.
Financial Data Harmonization
What ultimately sets MobilSense apart from any other mobile data management solution is our ability to integrate the real-time flow of data usage with invoice billing periods including rates and costs. This literally allows us to convert GBs consumed into dollars, yielding a higher level of intelligent insights and a foundation for sound decision making. Quantifying usage in dollars removes the shroud over data usage which made it virtually impossible to fully quantify the financial impact of mobility devices. This groundbreaking integration facilitates real-time data optimization actions, yielding maximum savings while making a return on investment calculations quick and easy.
One Source for Your Mobile Data Management Needs
Today, only one vendor has the ability to bring together the powerful analytics and control mechanisms with optimization and invoice reporting under one MMS offering – MobilSense. Providing breakthrough functionality without any software or app running on the mobile device, our solution runs from within the carrier network without compromising a robust handset experience. The offering from MobilSense can help enterprises avoid the inevitable mobile spend budget increases that are sure to come as network data speeds increase.
Are you interested in gaining insights into your company's mobile device usage? Request a demonstration of our award-winning MMS software by clicking the Contact Me button to Learn More button.