Cisco Projects Massive Mobile Data Growth – Are You Prepared?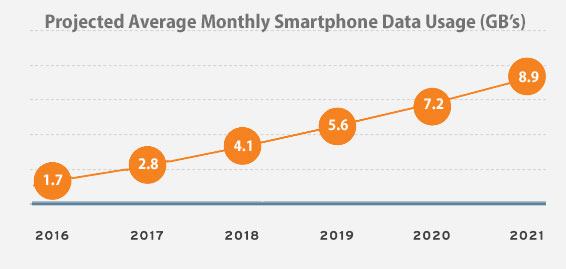 Industry heavyweight, Cisco has something to say about the impending mobile data boom. They expect mobile data traffic to grow by over 600% from 2016 to 2021.
According to Cisco's Mobile Visual Networking Index, global mobile data traffic is expected to reach 587 exabytes annually by 2021 – up from 87 exabytes in 2016, and about 122 times more than all mobile data traffic generated in 2011; adding "mobile video traffic accounted for 60 percent of total mobile data traffic in 2016."
How is your company preparing to control costs generated by this dramatic data growth? Following is a list of proactive steps some companies are effectively using to retain control of their mobile expense:
Restricting access to entertainment, video streaming or sites deemed unacceptable
Capping usage when it reaches a predetermined threshold as well as sending alerts
Preventing users from accessing restricted sites or content categories
The magnitude of projected mobile data growth will not happen without significant cost ramifications. Contact MobilSense today. We can help you gain control over your data usage by building a safety net against future cost impacts. Click here to get started.