Plugging Your Wireless Spending Gaps
Today's wireless billing practices are prone to gaps resulting in invoices that are greater than they should be. When dealing with the challenges of today's uncontrolled and undisciplined wireless environments, the first step should be to identify the most obvious overspending problems. A focus on minimizing carrier invoices is a good first step because it: 1) requires minimal organizational coordination and training to achieve, 2) generates immediate savings (in less than three months) and 3) represents a significant percentage of the overall hard savings opportunities available through a comprehensive wireless management practice.
While some organizations are doing a reasonably good job at managing wireless costs, even among the most diligent, there are real opportunities to find additional savings. It is rare for a company to have full control over their wireless environment and be capitalizing on every potential savings opportunity. Below is a brief overview of savings strategies that have proven to produce significant returns.
With Invoice Optimization, Isn't the Carrier Looking Out For Me?
Carrier rate complexities are a function of competitive pressure compounded by complicated and inflexible billing systems. The complexity facilitates some overpayment scenarios but to astute wireless administrators it can also be the source of savings carriers may or may not have anticipated. The behavior of carrier account teams is controlled and influenced by their individual compensation plans. While they typically possess some measurement associated with client satisfaction, their financial motivators are predominantly revenue based. There are two prevalent strategies when it comes to optimization, 1) periodic audits, or 2) methodical monthly monitoring.
In a practice borrowed from wireline management, some companies take the view of only periodically assessing their cost effectiveness and typically in a rear-view mirror approach rather than forward looking. While periodic audits are a step better than just relying on your carrier to look after your monthly invoice, it will result in the least amount of savings of the two approaches and likely be the costliest in terms of your expenditures. Typically, you engage outside consultants that bring expertise and tools to the audit process. The fundamental problem with the audit approach is that it represents a one-time course correction to a process that will immediately begin veering off course once the audit is complete. This is why the prudent approach is to have safeguards in place monthly to identify continual savings opportunities.
Pool-centric, monthly monitoring provides the most effective approach to ensuring minimized carrier bills. This includes either a technology solution that uploads and analyzes your invoice monthly or engaging an expert with tools to analyze your invoice monthly. The key decision point is the cost of this service. Highly automated solutions are going to offer the best price point. Consultative offerings that rely heavily on personnel will be more expensive. Tackling this problem with in-house resources will typically only work up to a certain count of devices after which it becomes apparent that some amount of automation is required. Once a company engages their own in-house tool development, they are likely to find this an expensive distraction given the modest pricing available today for Cloud or SaaS (Software as a Service) wireless management solutions. Strong automated solutions can generate 2-3 times their cost in returned savings by offering consistent, monthly insight of feature elimination, device termination and removal and crediting of billing errors.
Identification & Control of Excessive Spenders
When looking for excessive spending instances, we find two common culprits: users who have no idea their actions are generating residual expenses and those that know their actions are adding cost to their bills, but are either unaware of company policy or assume that their imprudence won't be noticed in a large population of company devices. Our approach is to shed light on these spending excesses to permit appropriate action whether it is to change or restrict plans and features or to make policies clear to those whose usage runs counter to corporate intentions. To do this our methodology analyzes usage data from two angles, 1) we highlight suspect usage charges in specific categories across all users and 2) we flush out a small subset of users whose invoices are statistically out of synch with company averages.
Off Hours Usage
In the continuing process of scrubbing invoices to ensure that you are paying no more to the carriers than contractually obligated, a fertile ground for savings can be found in an analysis of your users. With data as the key metric, it is increasingly important to look below the surface to understand the manner and timing of data usage. Data, much more than voice, can accumulate to surprisingly high amounts raising cost needlessly. Since it is estimated that over 50% of the actual data usage is spent on social media sites, news, entertainment, as well as streaming audio and video applications, the ability to manage and control the pace of data usage is fundamental to effective cost management and control.
Only viewing data usage as an aggregate company total has proven to be an ineffective way to encourage responsible employee usage. It is important to use progressively powerful tools to increase oversight into the usage behaviors by looking beyond the superficial. A view of your most costly users, including a breakout of their spending by category, can yield opportunities for employee education or even reimbursement by employees for unapproved usage. A view of your user's off-hour usage is the first of many steps that can be taken to bring increased accountability to wireless users.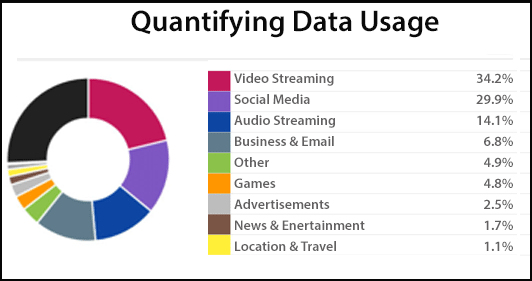 Actual Site Data Compilation
Now, for the first time, companies can actually see where data usage is consumed. MobilSense is now able to reveal whether the user is streaming data, audio, visiting social media sites or using business application like email.
Click here to download our White Paper on "Plugging Your Wireless Spending Gaps"