BYOD – Is it Business, Personal or Both?
Some Companies Take BYOD Personal, How About Yours? 
Since the BYOD (Bring Your Own Device) dilemma first appeared on the scene, there has been no shortage of opinions on how to address the situation.  Managing mobile devices is simply not a core competency in all companies.  For some, BYOD delivered the excuse they were seeking to dodge corporate liable mobile management responsibilities.   As a result of viewing mobile devices as intrinsically personal in nature, companies both large and small, have pushed mobile device responsibility to employees while providing a fixed monthly business reimbursement.  The correlation between bringing your own personal device and personal liability seemed for some an easy connection to make.
The 'reward' for turning a device used the majority of time for business purposes to an employee for management and financial liability has become a fixed monthly stipend.  From the very beginning of mobile devices in corporate environments there has been a reasonable tolerance for some amount of personal usage.  So the question becomes how is your organization viewing mobile devices, business or personal?
A Warning Note on BYOD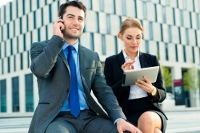 What has changed and why is BYOD becoming the point of justification to burden employees with expense and time commitments usually the responsibility of their employer?  There are three contributing factors, 1) the high cost and growing percentage of smartphones and tablets which continue to drive up cost, 2) presumptions that personal liability can reduce mobility expenses, and 3) the challenge of maintaining effective internal mobile management competencies.  For companies with a history of utilizing a corporate liable strategy they are taking a risk on a potential solution that has delivered marginal results and may run counter to a company's culture and security standards.