Our Focus
As one of the original wireless expense management (WEM) vendors, MobilSense continues to lead with vision and advanced functionality. Founded in 2001, our focus from concept to inception, has been to deliver customer-focused functionality through the most adaptable architecture in the industry. Our wireless-only focus insures that our solution will continue to evolve and grow with the ever changing mobility marketplace.
Our success is proven by the longevity of our solid customer relationships. Anchored in company culture where customer service is our highest priority, our solution was designed with a customizable approach in mind, allowing for the flexibility to scale in response to the needs of our customer's individual and unique needs. By having the ability to plug into any company's IT infrastructure, MobilSentry™ is the right tool to manage your mobility expenses, integrating seamlessly with any company's business practices.
With a management team that has been in place for over a decade, we collectively and consistently deliver a WEM solution with the highest level of customer satisfaction. Through the power of MobilSentry™ our team has analyzed over 1 million devices, helping our customers save millions of dollars by avoiding unneeded payments to the carriers. Let our customer-centered culture, along with our technology and process-oriented solution work for you.
MobilSense Technologies, Inc. is headquartered in Agoura Hills, California
Request a Demo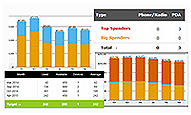 Contact us to see the powerful analytics capability in MobilSentry