MobilSense Again Receives Industry Award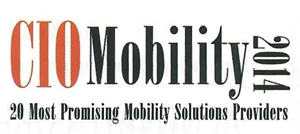 MobilSense Selected a Second Time by CIO Review Magazine! 
MobilSense was included in the CIO Review Magazines CR Tech20 2013 Most Promising Mobility Companies in May 2013.  We were again selected by the CIO Review Magazine in their 20 Most Promising Mobility Solution Providers award published in the February 2014 issue.  The choice was made by a panel of CIOs, Analysts, VC's and the CIO Editorial Board.  This list of 20 companies is those they determined are poised to have a real impact on the exploding Mobility marketplace.  MobilSense is the only company on the list that cuts mobility costs.
MobilSense has made great efforts to provide education and insights to industry best practices and domain specific feedback to customers and the industry.  We believe we are being recognized for our historical efforts to build the most comprehensive, automated wireless management solution in the industry.
Click here to go to MobilSense website home page.