Managing International Travel Costs
Mobile International travel charges represent one of the fastest growing expense categories found on wireless invoices. Fortunately, with the proper controls and appropriate carrier features, using international voice, data and text can be contained to only a small premium over the same domestic usage.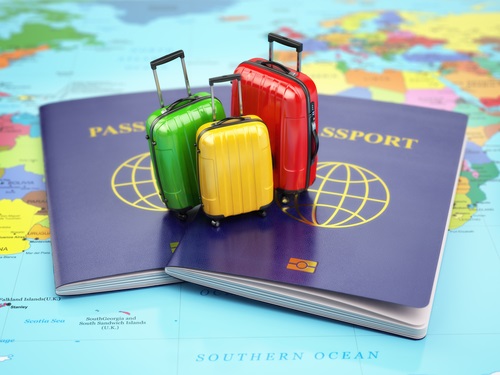 The carriers generally provide three international travel options from which to choose. The first being daily travel coverage for select countries. This option is charged at a $10 per day premium when data, calls or texts are used internationally. In this case, your usage counts against your domestic use allocations. The second option is comprised of monthly plans with a set amount of data and typically include free texting. The third is a pay-as-you-use feature. Choosing which option will be optimal depends on the amount of data used, and the length of travel time.
Since the application of these choices can be confusing, following describes these three different international options in more detail.
Daily Travel Coverage
For the two top US carriers, Verizon and AT&T, their daily travel plans are identified by branded names. In Verizon's case it is called "TravelPass" while for AT&T is branded as "International Day Pass". You are required to add one of these features in advance of your departure, but the carriers extend leniency by allowing you to back date if done soon after departure. The $10 charge is applied to each day that any voice, text or data event occurs but there is no charge on days of no international usage. Verizon covers 145 countries. Click here to view the current list of countries covered by Verizon. AT&T covers 114 countries. Click here to view the current list of countries covered by AT&T. While it is highly recommended for anyone who travels abroad to add this feature, this feature alone does not offer full coverage.
Part of making the optimal choice is understanding the typical usage of the mobile user. MobilSentry™ users have come to rely on a sound estimate of data when traveling which is key to facilitating your selection of features and plans.
Pre-purchase of Monthly International Data
In addition to the International Day Pass, AT&T offers Passport which is a monthly plan designed to cover 1GB or 3GB of data and voice at a cost per minute with unlimited text for use in those countries not covered by International Day Pass. The Passport feature covers 200 countries. For a current list of countries covered by AT&T's Passport feature, click here. For travel to a mix of covered and not covered countries by Day Pass, it requires the purchase of both plans with the Day Pass billing first if the country is covered.
Verizon has a similar monthly plan but provides 100MB or 200MB of data with a cost per megabyte over these amounts; voice with a cost per minute, and unlimited text for use in countries not covered by TravelPass. Pre-purchase plans require a clear view of how much data is ultimately being used, however, a clear view of usage would require a user's recent history of data use. Unfortunately, this is difficult to apply unless assisted by a mobile cost management tool.
Pay-as-you-use
Use caution when choosing pay-as-you-use. This approach is the default if no selection is made, and in almost all cases will cost more than the two aforementioned choices.
Power of Mobile Expense Management Solutions
Companies who do not partner with a mobile expense management vendor may be able to put all devices on daily travel coverage but will lose the ability to size usage against recent past to make choices when a country of destination is not supported. Additionally, some mobile expense management solutions also offer online self-service procurement portals which can assist in the facilitation and timely selection of appropriate international features and plans before travel.
MobilSentry™ has powerful international algorithms which will catch and update rate plans and features for international travel that are not optimal. MobilSentry™ will also identify devices that have been setup on monthly travel plans but were not turned off. Ultimately, with MobilSentry™ Data Manager, a view of real-time, unbilled data usage can be monitored, including sending an alert when a device is roaming internationally.
Companies who require its employees to travel have found the services of MobilSense to be instrumental in significantly reducing their international charges. Contact us today to see how our international travel solutions will save your company money.