Back-to-Back Industry Awards
2017 CRN "Mobility 100 Coolest Vendors"
CRN recently published a list of their Mobility 100 Coolest Vendors. They broke the list of 100 into four different subcategories.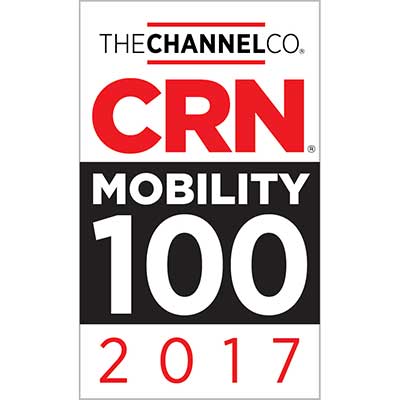 MobilSense was chosen as one of 30 vendors highlighted in their Mobile Software and Services category. Rober Faletra, CEO of the Channel Company described CRN's Mobility 100 as the "definitive list of the key mobile technology vendors currently in the IT ecosystem. It shines a light on the suppliers whose innovations solution providers are building on to provide businesses with the speed and agility they need to compete in today's world of moving digital targets. We extend our sincerest congratulations to the outstanding companies on this list and look forward to their future innovation and success." MobilSense shares the spotlight in the Mobile Software and Service categories with the four major US carriers, Hewlett-Packard and Cisco. MobilSense was highlighted for offering innovative expense management solutions.
2016 CIOReview "20 Most Promising Enterprise Solution Providers"
In order to design the most suitable mobility platform, enterprises are constantly assessing and fine tuning their technology architectures, software platforms, back-end applications, and databases. The requirement for companies to stay current and secure is what drives the mobility solution providers which in turn greases the wheels of their respective mobility landscapes. As the navigator for enterprise solutions, CIOReview assists CIOs in finding the most fitting solution providers based on their needs. The July 2016 edition of CIOReview introduces The 20 Most Promising Enterprise Mobility Solution Providers described by CIOReview as "the best solution and service providers who exhibit extensive business knowledge and innovative strategies in the industry".


A distinguished panel comprised of CEOs, CIOs, VCs, analysts, and CIOReview's editorial board has selected the top players from over three hundred companies. The listing gives a glimpse into how these solution providers work real-time, so that you can gain a comprehensive understanding of what technologies are available, which tool is right for you, and how each one shapes up against the competition. MobilSense is proud to be included in CIOReview's latest list of Mobility Solution leaders.