Ahern Rental Company
Drops cost/device by 40%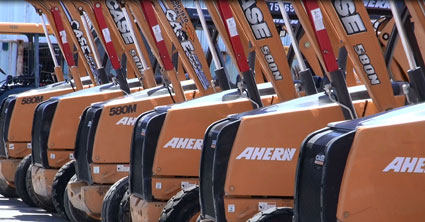 Click to view video
Industry Background
Equipment rental companies bear the responsibility for ensuring their rental equipment complies with all applicable regulations. Safety checks are performed before each delivery. Routine maintenance and major repairs are addressed when needed, all of which drives up the cost of doing business. When controlling cost becomes critical to profitability and mobile communication is a critical component of your business model, the growing cost of wireless assets can naturally undermine profits.
Ahern Rental Company
This Southwest equipment rental company, who was expanding its footprint nationally determined that the best approach to gaining control over their wireless spending would be to automate. Faced with the challenge of choosing the most cost-effective plans for each of its wireless users across multiple vendors, coupled with a growing mobile asset inventory, it was decided that outsourcing the effort to an experienced wireless expense management vendor would be the only way to achieve their objectives.
The Problem
Ahern's rapid growth created a need to increase staff while controlling spending. With offices located nationally, their telecom expenses were growing disproportionately. When a cost analysis was completed, it became obvious they lacked the capability to achieve greater inventory control and reduce spending without automation.
The MobilSense Solution
A request for proposal was submitted to several well-known industry leaders and once the evaluation process was completed, MobilSentry™ by MobilSense Technologies, Inc. was selected. MobilSentry™ was chosen for its powerful reporting capabilities enabling quick access to asset information while providing oversight to cost and usage information for each wireless user. By taking advantage of invoice optimization and reporting visibility to those users generating the highest monthly mobile expenses, this company successfully achieved their expense reduction goals.
The Results
In short order, through optimization adjustments, the termination of unneeded devices and bringing visibility to the most costly users, the average cost per minute for wireless phone usage was reduced by 40%.  Over a 5-year span this company has achieved a cumulative wireless savings in excess of $2.5M.